Bevcraft Group to invest £4m in new Peterborough facility
Posted: 30/03/2021
'Craft can' specialist opening the first Tonejet digital can printing plant in Europe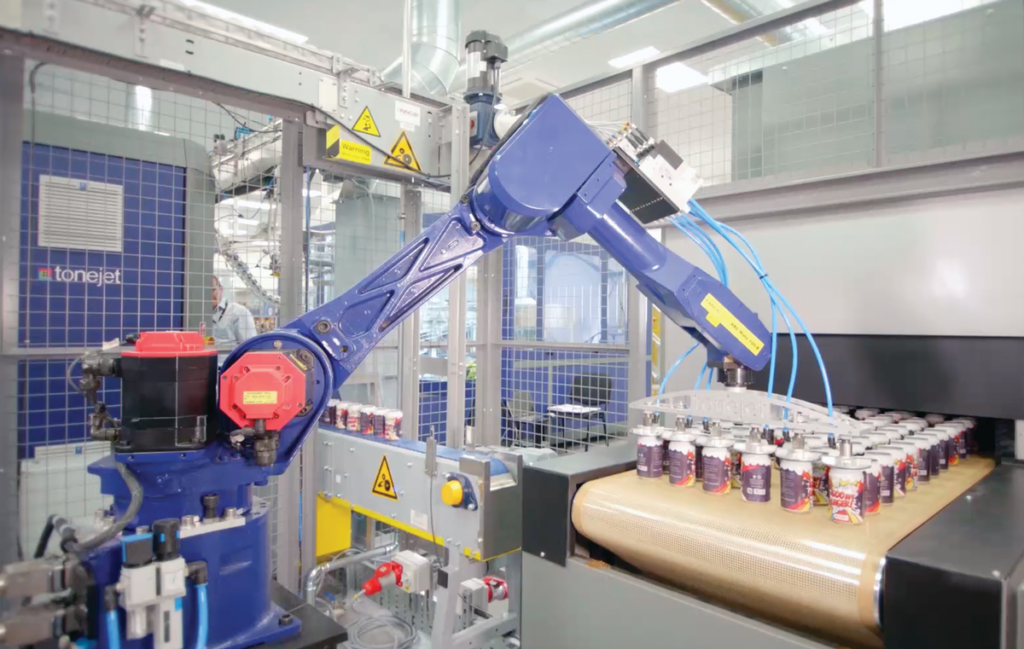 Bevcraft Group have selected Peterborough as the perfect location to establish a new flagship digital can printing operation.
The fast-growing 'craft can' specialist will invest over £4m in Peterborough over the next three years and has already commenced recruitment for the launch team. The investment will create up to 20 new jobs across a wide range of technical, manufacturing and administrative roles.
Bevcraft Group have partnered with Cambridgeshire based Tonejet to commission what will be the very first such system in Europe. The Tonejet Cyclone C4 is the result of many years of extensive research and development into direct to can digital printing technology.
By printing directly onto the beverage can, Bevcraft will be able to offer an entirely new and environmentally sustainable way to decorate cans for volumes of between 1 to 50,000 units which up until now have relied upon the application of labels or shrink sleeves.
In addition to digital can printing, the facility will also host a mobile canning fleet, distribution hub and service & maintenance depot. These will complement Bevcraft's existing distribution hub in Merseyside as well as operations in Ireland and the Netherlands.
Commenting on the technology Darren Fenton, COO of the Bevcraft Group, said:
"By adopting this new and exciting technology, we can now completely eliminate minimum order quantities and provide yet more choice and flexibility to the hundreds of fantastic beverage producers we are so fortunate to work with across the UK and Europe. This solution will complement our existing mobile canning, can distribution and can decoration offerings so that we can continue to offer maximum choice and flexibility to our clients. We expect 330ml print capability to come on stream within the next two months and 440ml to go live close to year end."
In relation to the investment Ciarán Gorman, CFO of the Bevcraft Group, said:
"This is the single most important investment to date for the Bevcraft Group and represents a vote of confidence in British manufacturing and innovation. We are particularly satisfied to see genuinely world leading technology that has been developed locally in Cambridgeshire now being commercialised here. Peterborough was the natural choice for us as our can manufacturing partners, Crown, CanPack and Ball are all located within a short radius. This decision has been further validated by the exceptionally high calibre of new hires to date and the genuine enthusiasm shown by Opportunity Peterborough."
Commenting on the market Henry Reilly, Commercial Director of the Bevcraft Group, said:
"Our roots are in the craft beer sector where creativity, variety and sustainability have been so important to the growth story. This is a sector that is full of energy and passion and we really look forward to seeing our customers push the boundaries of what digital can printing can deliver. Over the years our mobile crews have completed thousands of canning runs and the one absolute constant is that there are quite literally no two craft producers the same – everyone has a story to tell and a different approach to doing so."
About the Bevcraft Group
The Bevcraft Group is a 'craft can' business first established in Ireland which now includes operations across Ireland, the UK and the Netherlands and handles over 50m cans / annum.
Bevcraft provides a range of services including mobile contract canning, can distribution, can decoration, testing, servicing, and training.
All services are unbundled so that craft beverage producers can 'pick and mix' the options that suit them. Typically, services are available on-demand, commitment free.
A video of the Tonejet system can be seen here: https://www.tonejet.com/#
Back to News