Discover Peterborough's Smart City Achievements at the 2019 Smart City Summit & Expo in Taipei
Posted: 26/03/2019
As one of the UK's top Smart Cities, we're delighted to be part of the UK government's stand at the 2019 Smart City Summit and Expo in Taipei this week (26 – 29 March 2019).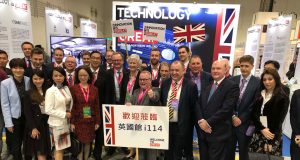 Peterborough is among the UK's top 5 fastest growing cities and we're a hotbed of innovation with one of the highest business start-up rates in the country.
Our Future Peterborough team is dedicated to making sure our city works as efficiently as possible for businesses and residents. The Smart City Leadership Programme and Circular Economy initiatives are internationally respected for how they've improved Peterborough's economic resilience and sustainability. We want to share what we've learnt with other cities and regions around the world to develop more best practice examples and support more cities on their smart city and circular economy journeys.
Peterborough's impact:
Delivers a DFID-funded Smart City Leadership Programme for the Indian city of Amaravati and for the state of Madhya Pradesh
Played a lead role in the development of British Standards Institute's (BSI) suite of Smart City Standards
Chair of the BSI's Smart and Sustainable Cities Committee (SDS/2)
A founder member of the Cities Standards Institute
Attends the All Party Parliamentary Group on Smart Cities
A member of the Ellen MacArthur Foundation's Circular Cities Network
The team has presented at over 50 international conferences and continues to acquire local, national and international media coverage peaking with the 'World Smart City Award' in 2015
A few of our achievements:
We'd love to tell you more about doing business in Peterborough and our Smart City and circular economy programmes.
Come and find us on stand i114.
Downloads (with Mandarin translation):
Peterborough, UK – home to a thriving Digital & Creative Sector
About the Future Peterborough programme
Supporting Smart Cities in Taiwan
For more information about our Future Cities programme, please visit futurepeterborough.com
Back to News