Dutch paint manufacturer opens its first UK base in Peterborough
Posted: 17/10/2019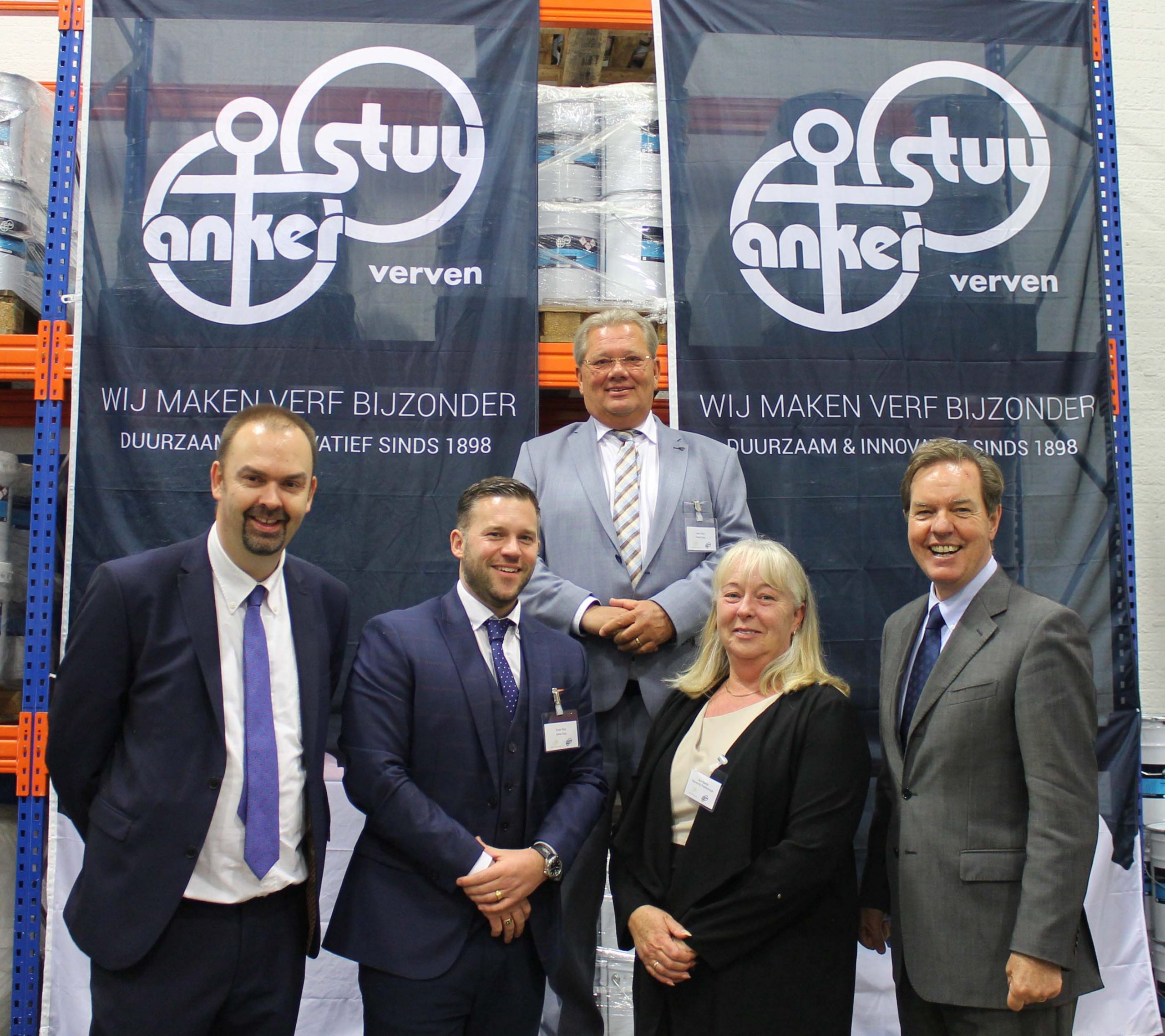 Anker Stuy, a specialist joinery coatings manufacturer from The Netherlands has officially marked the opening of its first UK base in Peterborough with a special lunch and ribbon cutting with the City's Mayor and The Ambassador of the Kingdom of the Netherlands to the UK, Mr Smits.
Brexit has been a catalyst for securing this investment as the company can now sell directly to UK customers. Economic development company, Opportunity Peterborough, has been working with the business owners since the end of 2018 to secure this investment in the city with support from the British Embassy in The Netherlands, Department for International Trade and the lettings agent for Anker Stuy's chosen premises, Barker Storey Matthews.
An official opening event was held on 9 October with a lunch at the Mayor's Parlour to welcome the Ambassador of the Kingdom of the Netherlands to the UK, Mr Smits, and the Anker Stuy team to the city. An official ribbon cutting was held afterwards at the Anker Stuy premises at Alpha Park in Bretton.
Speaking at the lunch, Mr Smits said, "Whatever the outcome of Brexit, we want to send a clear message that The Netherlands will still be on the other side of the North Sea, ready and willing to trade with the UK.
"The citizens of both our countries share a pragmatic approach to business and that's made us very successful trading partners. There is more development ahead and I think Anker Stuy is one of the trailblazers for that."
Emile Stuy, one of the owners of Anker Stuy, commented, "We're really excited to have a base in the UK at Peterborough. This is one of our biggest markets and with our new base we can be much more responsive to our customers' needs.
"We're especially grateful to Opportunity Peterborough for introducing us to the city and aiding our search for a site."
Tom Hennessy, chief executive of Opportunity Peterborough, said, "As a family run business, Anker Stuy is a great fit with the entrepreneurial spirit of Peterborough. We will continue to work with them, and any growing businesses in the city to provide any support they need to achieve their ambitions and reach their full potential.
"Anker Stuy have come to Peterborough at a really exciting time, with the university set to open in 2022, the regeneration of the city centre with sites like Fletton Quays, North Westgate and the station quarter, not to mention all of the work taking place at sites like Queensgate and Serpentine Green to enhance retail opportunities, this is a great time to join one of the country's fastest growing cities."
Back to News