Opportunity Peterborough helps secure over 200 new local jobs as URBN moves it European distribution to a new 400,000 sq ft high-tech Fulfilment Centre in Peterborough
Posted: 05/08/2020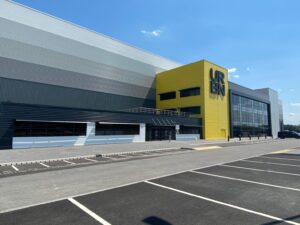 Following support from Opportunity Peterborough, URBN, the global portfolio of consumer brands comprised of Urban Outfitters, Anthropologie & Free People, is moving its European distribution to a purpose-built, high-tech Fulfilment Centre in Peterborough, creating more than 200 new jobs over the next 12-24 months.
Opportunity Peterborough provided critical economic intelligence on the city as URBN scoped UK locations, working with local property agents to put forward development sites with plenty of room to accommodate the business' rapidly growing operations. Support is ongoing as URBN begins to recruit and move operations to Peterborough.
The new site is 60% larger than URBN's current premises and will increase storage capacity from 2 million items to up to 10 million for its retail, digital and wholesale operations.
URBN has constructed the new site to accommodate strong growth over the next 5 – 10 years. The fulfilment Centre is equipped with an automated storage and retrieval system where robots and automation will pick, consolidate and package orders using Goods to Person (GTP) technology.
The site will open in two phases; the first in August 2020 will see the Anthropologie brand move operations to Peterborough. By winter 2021, fulfilment for all of URBN's brands will have moved to the new fulfilment Centre for the UK, EU and EEA markets, along with franchise stores in the Middle East.
Over 200 permanent jobs will be created in Peterborough, with roles ranging from Distribution Centre Operatives and Operational Management, to Transportation and Customer Service.
Perks for URBN employees will include access to a fully equipped gym, free electric car charging and a roof-top terrace on-site, as well as pension plan, income protection, life assurance and private health care. Employees also receive up to 40% in-store and online employee discounts, and up to 33 days holiday for full-time employees.
Tom Hennessy, chief executive of Opportunity Peterborough said, "Having worked with URBN from the beginning of their relocation journey, it's extremely rewarding to now welcome them to the city and to see over 200 permanent jobs with comprehensive benefits packages, created for residents.
"Businesses like URBN share the city's passion for innovation and it's exciting to see their plans for a 21st century facility coming to life in Peterborough."
Back to News