Peterborough is at the Taipei Smart City Summit & Expo 2018
Posted: 26/03/2018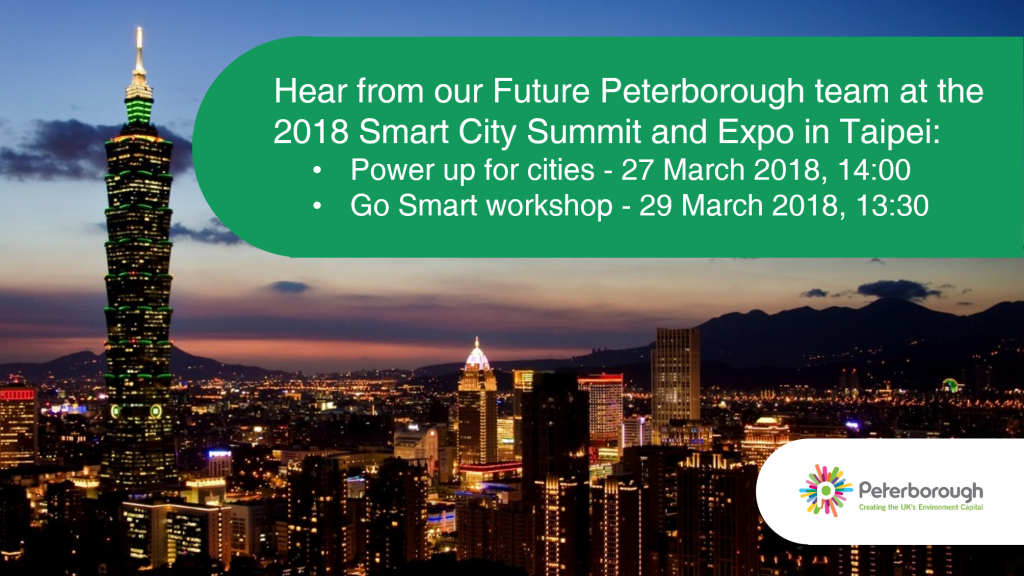 As one of the UK's top Smart Cities, we're delighted to be part of the UK government's stand at the 2018 Smart City Summit and Expo in Taipei this week (27 – 30 March  2018).
We're also pleased for our city's smart journey to be featured at the Power up for Cities talk and Go Smart Workshop at the Expo (times and dates above) .
Peterborough is among the UK's top 5 fastest growing cities and we're a hotbed of digital creativity thanks to fantastic gigabit connectivity, and being just a 50 minute train ride from London. On top of that our Smart City Leadership Programme and Circular Economy initiatives are boosting the city's resilience and enhancing resource efficiency whilst also expanding the city's international reputation.
Peterborough's impact:
Played a lead role in the development of British Standards Institute's (

BSI

) suite of Smart City Standards
Chair of the 

BSI

's Smart and Sustainable Cities Committee (

SDS

/2)
A founder member of the Cities Standards Institute
Attends the All Party Parliamentary Group on Smart Cities
A member of the Ellen MacArthur Foundation's Circular Cities Network
Delivers a DFID-funded Smart City Leadership Programme for the Indian city of Amaravati and for the state of Madhya Pradesh
The team has presented at over 50 international conferences and continues to acquire local, national and international media coverage peaking with the 'World Smart City Award' in 2015
A few of our achievements:
We'd love to tell you more about doing business in Peterborough and our Smart City and circular economy programmes.
Come and find us on stand J804.
Downloads (with Mandarin translation):
Peterborough, UK – home to a thriving Digital & Creative Sector
About the Future Peterborough programme
Supporting Smart Cities in Taiwan
For more information about our Future Cities programme, please visit futurepeterborough.com
Back to News