Coloplast Case Study
Posted: 24/08/2020
Coloplast has had its UK headquarters in Peterborough for over 40 years and employs over 300 people locally.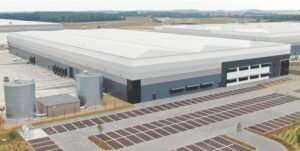 The Danish multinational researches, develops, manufactures and markets medical devices and services related to ostomy, urology, continence, and wound care. Looking after such intimate healthcare needs has always required a heightened level of customer care and expertise, and the Coloplast  team support thousands of users every week, whether over the phone, via social media or through the nursing services it provides to complement the work of the NHS. 
Even more critical for customer wellbeing and satisfaction is delivery time, and the company's dedication to customer service saw Coloplast invest £9 million into creating a new 135,000 sq ft distribution centre at Gateway Peterborough industrial park which opened in 2020.
The new centre – named 'COG' (Coloplast Operations at the Gateway) — handles all of the company's distribution activities for the UK and the Republic of Ireland. With increased capacity and improved supply chain flows, the base is now fulfilling customer orders and deliveries at an increased rate. This is because the company has developed its own electronic prescription requesting process alongside using the NHS Electronic Prescribing System, meaning the team can better meet  same-day and emergency orders while also reducing on the wastage generated by paper-based prescriptions. 
The centre is also home to ten specialised laser cutting machines (of which there are only 50 in the world!), purpose built to produce individually sized stoma bags for patients. Last year, Coloplast's team produced over one million personalised bags in just one month.
Sustainability was a key focus in the centre's design, with low-flow sanitaryware, a rainwater harvesting system, pulsed water meters and a water leak and motion detection systems making it highly energy efficient. Sixty covered cycle storage spaces have also been created to support employee health and wellbeing and reduce commuting emissions.
"Peterborough offers us a fantastic strategic location from which we can serve our UK customers; it's why we've increased our office floorspace in the city by nearly 10, 000 square feet and our warehouse space by over 80,000 square feet in  the last two years. The UK market is very important to the global business and our new distribution centre ensures we can meet growing demand and be at the forefront of providing industry-leading  services for all our customers including patients  with chronic healthcare needs, the healthcare professionals who support them and, of course, our trade partners."  
Myles Davies, Business Support Director, Coloplast